Skip to Content
Custom Patio Covers and Carport Enclosures
Throughout the hot summers that Missouri experiences, we still want to enjoy the outdoors despite the heat. The best way to stay cool and shield yourself from the sun is a sturdy and fashionable patio cover installed by the experts at Joplin Venetian Blind. No longer do you need to retreat back indoors from your pool party just to enjoy lunch. Stay cool and continue to enjoy your patio all season long. Permanently installed patio covers also offer superior insulating properties to keep your home nice and cool. The same benefits on your patio can be enjoyed for your car as well. When you need a patio cover or carport installed in your Missouri home, you've come to the right place at Joplin Venetian Blind.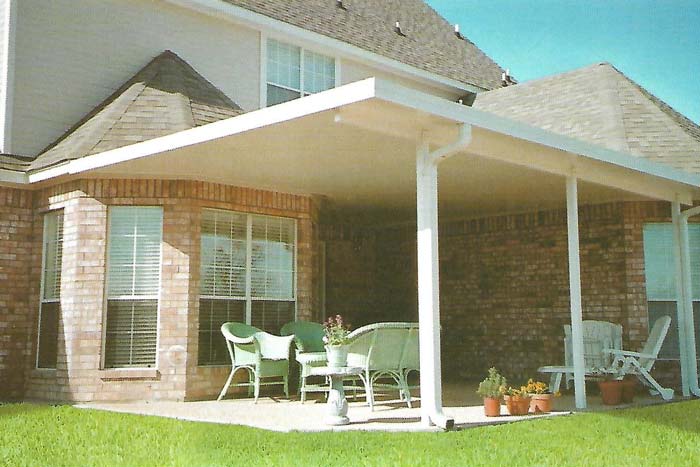 Take Advantage of the Outdoors All Summer Long
A patio cover is more of an investment than just a simple retractable mesh screen. Because of this, they also offer a significant benefit to you and your family enjoying the outdoors. The insulated, double-reinforced core provides protection from the elements while reflecting heat to keep you and your family cool under the cover. Additionally, Joplin Venetian Blind uses materials that dampens the sound of heavy rain so you can continue to enjoy your patio throughout the spring showers. Many homeowners fail to take advantage of their patio due to lack of cover or protection from the sun or weather. Give your home the extension it deserves by installing a patio cover. After your new cover is put in, you'll be amazed at how much extra room your home now has for hosting parties or just enjoying a cup of coffee outside.
Innovative and Convenient Carport Installations
The same protection for your patio can be used for your car. Long gone are the days of scraping ice off your windows and digging your car out of the snow just to get to work. With a carport, the only thing you have to worry about is shoveling your driveway. Similarly, in the summer, the sun's brutal rays beat down on vehicles, causing their paint to weather and tarnish. Enjoy the benefits of simplicity and ease with the added bonus of keeping your car nicer longer with a carport installed by Joplin Venetian Blind. Our team will work with you to find materials that coincide with your home. Start living better today.
Providing Quality Home Improvement,
Since 1939