Skip to Content
Custom-Designed Sundance Louvered Roof Pergolas
You've got everything set up in your backyard oasis. Your patio is perfect for hosting parties, you perhaps have a beautiful pool to relax in, and a space for grilling steaks. What more could you possibly need? To perfectly tie it all together, include protection from the elements in the form of a pergola. A covered living area ties your whole project together, letting you enjoy your space year-round. Don't let rain or too much sun hold you back from doing the things you love. Contact us today at Joplin Venetian Blind to finish your backyard getaway with a Sundance Pergola.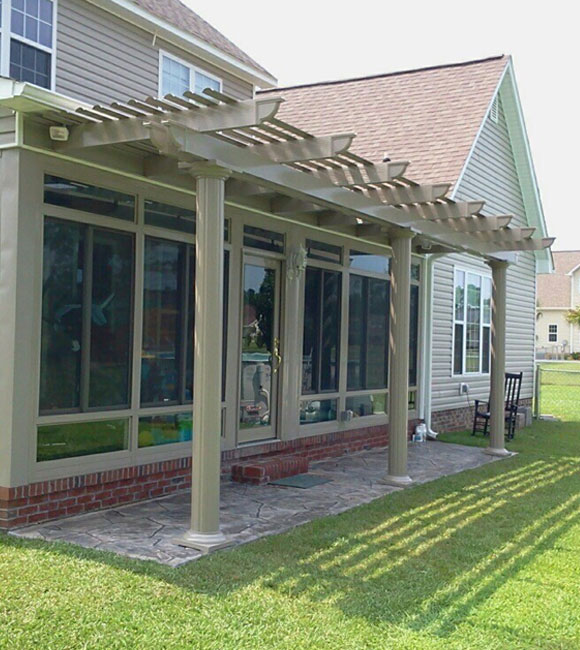 Endless Possibilities of Functional Beauty and Protection
Not only do pergolas shield you from the elements while you enjoy your intimate dinner or host an extravagant party, but they also are customizable to fit along with your backyard's own style. Sit down with our team to find something that will compliment your home while providing a new and elegant shape. The Sundance brand pergolas come in a wide variety of styles. Whether you would like an open concept that doesn't interrupt your view, or a privacy fence involved, the possibilities are endless. These innovative new installations can fit anywhere in your yard, including connected to your house, so there's room for plenty of possibilities. Relax under the canopy while you take in the fresh air. Added shade also helps to preserve your patio furniture and deck to last longer for years to come. The advantages are out there, just waiting for you to take them!
Trusted Home Improvement Experts Since 1939
At Joplin Venetian Blind, we've been helping Joplin residents improve and renovate their homes since 1939. We're proud to be the community's most trusted source for home improvement, which is why we dedicate ourselves to the craft. All our materials come from sources we trust while all our construction technicians are certified and trained. We believe everyone deserves to get the most out of their home. Pergolas are a perfect opportunity to add a touch of refined flair to your already beautiful backyard. Call us today to get started.
Providing Quality Home Improvement,
Since 1939