Skip to Content
Premium, Authentic Vinyl Siding
If you're looking for maintenance-free performance combined with authentic wood beauty and unmatched durability in a home siding product, then our flagship Charter Oak premium vinyl siding marks the end of your search.
Unparalleled Siding Performance
In addition to bringing out the beauty of our home, designed into Charter Oak XXL are features you will not find in any other vinyl siding product:
At 25 ft. in segment length, it's more than twice as loong as standard siding, and .46m extended length panels eliminate unsightly joints – meaning significantly fewer overlaps and a more consistent appearance
A double-thick nail hem enabling resistance to Category 5 hurricane-force winds
Available in 14 of today's most popular colors – and the premium colors from our exclusive Architectural Color Collection are deeper and richer for those who love rich, warm, darker shades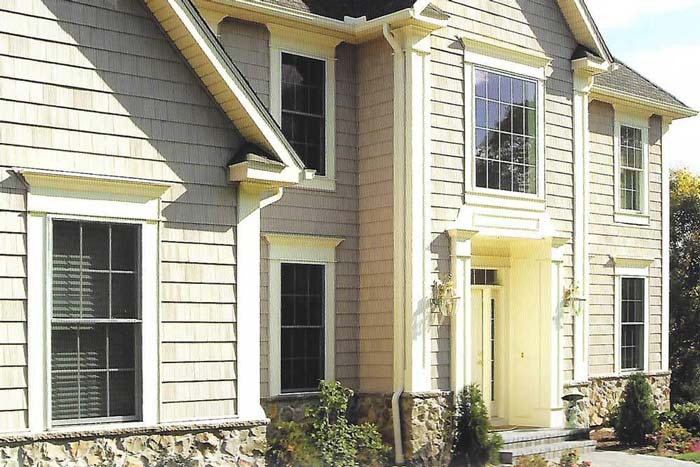 Reduce Energy Bills and Maintenance Chores
Wouldn't it be nice to reduce your energy bills and maintenance of your siding? Charter Oak Energy Elite gives you an insulated siding system that combines select materials and refined designs with exceptional energy efficiency.
The inside of your home will be cooler in summer, warmer in winter, and quieter year-round because Charter Oak Energy Elite is manufactured with FullBack, a precisely contoured insulating foam underlayment that provides all the benefits of our flagship Charter Oak XXL premium vinyl siding. No more air coming out from the plug-ins and light switch panels.
Premium, Authentic Wood-Like Vinyl Siding
Clothe your home in beautiful, maintenance-free premium vinyl siding with an authentic wood texture and a variety of rich colors to choose from.
Browse, purchase and have it installed by Joplin Venetian Blind.
Maintenance-Free Eaves and Soffits
Maintaining the eaves and overhangs of your home can be yet another chore. Easy-Care Charter Oak Soffits provide a beautiful finished appearance while providing the ventilation you need to remove excess heat and humidity from eaves, overhangs and attics.
All of our distinctive designs available to you come in both solid and hidden-vent panels. Solid soffit panels can also be used for vertical siding installations, which also add interest to entrances, dormers or gable end walls.
An Additional JVB Advantage to You
All our employees are covered with both liability and workers compensation insurance, for your protection. And an added perk is that we clean up after ourselves – including gathering the trash, vacuuming the floors, and doing it all in a timely manner.
Providing Quality Home Improvement,
Since 1939